A few years ago, we were a busy pair of doctors looking for a small weekend getaway in nearby France. After two years and tours of approximately 60 houses, we found the ideal place – solitary, but not lonely, good transport connection, beautiful views to the southwest, large plot (2 ha) with streams, meadows, forest and a very sunny location. The old Farmhouse itself seemed quite passable. The surprises then came gradually to the fore – leaky, rotting roof, dampness in the masonry and a wild bee swarm in the chimney. A total renovation was ultimately the only solution. In the end, only three outer walls remained, everything else was refurbished or replaced.
Fortunately, we had an expert on our side: Thomas Schindler, an architect from Waldkirch specializing in the restoration of old buildings, had many creative and unconventional ideas. With a lot of self-help and a good craftsman team, we built our "Ferme des Etoiles" into a "modern country house" with old and new construction elements and modern technology and interior architecture. This process took over 12 years.
Meanwhile, we are spending an ever-increasing amount of time in our domicile in the Vosges. We feel we have finally arrived and really enjoy the French "Savoir Vivre".
Within our farm you will also find: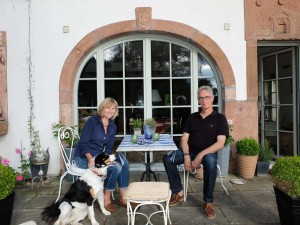 "Samson" – a not quite pure-bred Poitou donkey
"Petit Prince" – a daring mini-Shetland pony
"Amy" – our shepherd from Switzerland and a real frisbee junkie
As well as "Casiopeia, Babette, Grizzly, Jazz and Streifchen" – our cats.
We like sharing our natural French country way of life and our enthusiasm for beautiful and stylish living with other people. We are looking forward to new encounters in the "Ferme des Etoiles".
Here are some pictures taken before and during the rebuilding phase of the Farmhouse.